Welcome to Tornado Marine Fleet – Luxury Liveaboards
Tornado Marine Fleet has been operating Luxury Liveaboards in the Red Sea since 1989,
Starting with just one small boat operating from Sharm el Sheikh – Tornado Marine has grown to be one of the leading luxury liveaboard fleets in the Red Sea.  Operating over the years in locations outside of Egypt: Sudan; Djibouti; and the Maldives – Tornado Marine has gained a wealth of experience and knowledge about the regions and best practices.  This expanded knowledge base has enabled Tornado Marine to provide the best possible standards of both service and safety.
Following a different methodology to many other fleets – Tornado Marine does not merely focus on what is visible to clients but implements strict maintenance and safety procedures.  This assures that you will receive the ultimate luxury liveaboard experience possible.
With a team of seasoned professionals carefully chosen for their indepth knowledge of diving, boats and destinations – Tornado Marine offers the best quality of service from start to finish.  From initial contact to the end of your trip – Team Tornado Marine provide a personal service which is second to none.  This is why many divers book yearly to join Tornado Marine Luxury Liveaboard safaris.
Tornado Marine Fleet
The Ultimate Liveaboards…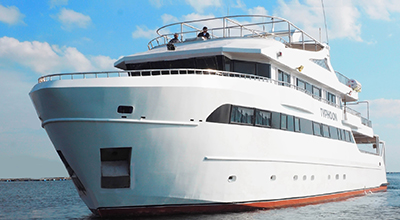 The steel Hulled M/V Typhoon Operating in both Northen and Southern Red Sea.
Accommodating 20 guests in modern stylish cabins.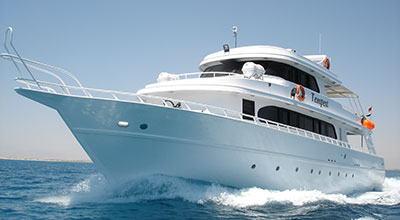 The wooden hulled M/Y Tempest sails in the North and has an intimate and personal feel sleeping just 12 guests.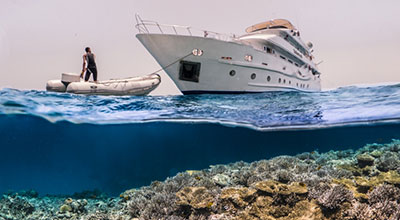 The steel hulled M/V Mistral  sails both Northern and Sourthern routes and sleeps 20 guests.
The wooden hulled M/Y Cyclone is perfect choice for chilled Northern route sleeping 20 guests.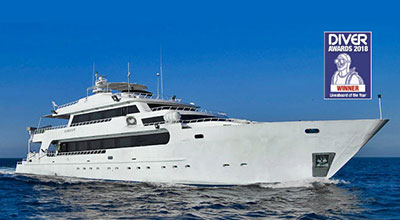 The steel hulled M/V Hurricane operating in both Northern and Southern Red Sea.  Accommodating 22 guests in stylish cabins.
Does jumping into shark infested waters sound like fun?
We certainly have the trip for you.
What our Guests say about us…
Good, clean cabins, dining area was very good for large groups. Kit deck excellent, well laid out and enough room for all divers.
Lounge very nice, comfortable area for briefings and relaxing.
Best live aboard boat we have been on so far!
Excellent week!  By far the best trip in many years.
Only complaint was the food was too good!
Dive with the Best
Relax and let us take care of the details…