Drag & Drop Builder
Strict Maintence Procedures

The Ultimate Red Sea Liveaboards
Award winning Red Sea Liveaboards each with a different feel and style but with the unmistakable Tornado Marine Fleet standards.
Operating wth a unique methodology which places equal importance on the visual appearance of the boats and the behind the scenes equipment – Tornado Marine operates to the highest standards possible ensuring the best Red Sea Liveaboards experience.
 All crew members and engineers are permanent members of the Tornado Marine Team.  By employing permanent team members we guarantee continuity; in-depth understanding of each vessel; seamless team work; and recognizable faces for return divers.
Every service; cleaning; damage and repair is logged and recorded adding to our historical records for each boat.
Each vessel is sent to dry dock yearly and some receiving extended dry dock periods for refits as necessary.
This is why we at Tornado Marine provide the safest and highest quality Red Sea Liveaboards available.
What Our Clients are Saying
Don't just take it from us, let our customers do the talking!
"Outstanding!
My 7th trip with Tornado and this week was the best.  My first trip on Tempest.   Was not sure how the smaller boat would work out but as it was me and the family thougth would give it a try.
We had the whole boat to ourselves and my  wife, son and daughter are now certified divers.
Can't wait for our next trip.  "
"Thank you to the entire team.
As a single and only just finishing my Open Water Course I was not sure what to expect.  The office team were amazing and answered all of my questions regardless how basic.
On board was immediatly taken care of by the guides and  felt instantly relaxed.
A FAB week and I came home as an Advanced Diver.
See you next year back on Cyclone this time for Get Wrecked!"
"A big thank you to all the team from my husband and I.  We had a tremendous week.
My first liveaboard and I thought I was in a 5 star resort.
My husband is a technical diver and I have only just learned to  dive.  I was worried that this would be a problem but your Instructors managed it perfectly.
We could not thank the crew of Mistral enough – especially the very patient zodiac drivers who never made me feel rushed.
Please say Hi to Mohamed the Waiter who was always ready with my G&T before bed."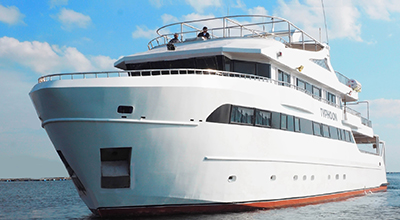 The steel Hulled M/V Typhoon Operating in both Northen and Southern Red Sea.
Accommodating 20 guests in modern stylish cabins.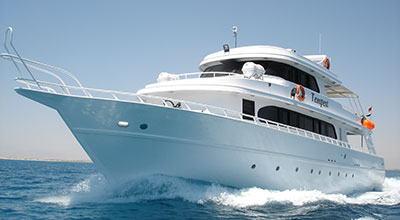 The wooden hulled M/Y Tempest sails in the North and has an intimate and personal feel sleeping just 12 guests.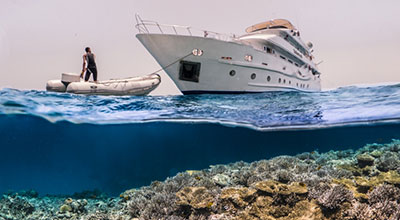 The steel hulled M/V Mistral  sails both Northern and Sourthern routes and sleeps 20 guests.
The wooden hulled M/Y Cyclone is perfect choice for chilled Northern route sleeping 20 guests.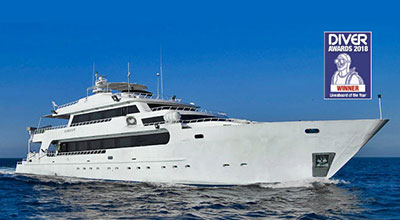 The steel hulled M/V Hurricane operating in both Northern and Southern Red Sea.  Accommodating 22 guests in stylish cabins.
Frequently Asked Questions…
Can I book a single cabin or do I have to share?
Yes, you can book a single cabin although the rate is higher.  If the added expense is not in your budget we can offer you a shared cabin with a person of the same gender
Do your boats have safety deposit boxes?
Yes every cabin has one safety deposit box.
Which is the best boat for a photography enthusiast
Mistral has a dedicate photo room on the back deck and is easily the favourite choice for photographers/
Can I change boats?
Should you wish to change booked boat upto 1 week prior to departure we will do our utmost to accommodate you.  Bookings are always subject to availability/
Is WIFI available?
Yes WIFI is available on all our boats.  However, we cannot guarantee a service due to reception.
We can arrange a private wifi box for rental should you require a more personal service although again we can not guarantee level of coverage.
Don't Be Shy
If we didn't answer all of your questions, feel free to drop us a line anytime.